October 7th, 2013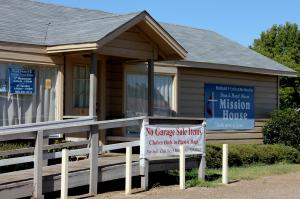 As is the case for many artists, I have had requests to donate work or, at the least a percentage of my sales, for this, that or the other cause. Often times, I have caved in just from the weight of peer pressure, not wanting to be viewed as an uncaring soul and delusionally hoping my generosity will turn into future sales.
I have had to alter my thinking somewhat. Throwing out the hope of future sales was the first alteration. Then, I had to get down to the bare bones and ask myself, "Is this particular cause something I feel a strong emotional bond with?" Now, only if a Cause passes this singular question will I consider committing my time, effort or work.
I make this blog/journal entry to tell you about an event that passed my one-question personal committment test. It is the 6th Annual Genny Wood Fine Art Show And Sale. This annual event will take place Saturday, November 9th, from 9:00 a.m.-5:00 p.m., at the Bullard United Methodist Church gym located at 226 South Phillips Street in Bullard, Texas.
Allow me to tell you the back story to this event. Genny Wood was an art instructor and an inspiration to those who knew her. One of her dreams in life was to have a fine art show and sale with proceeds from sells going to benefit the Mission House in Bullard. Sadly, she made her journey to Heaven before she could accomplish this dream, but three of her art students made this dream a reality just before she passed. Now, every year in her honor, the First United Methodist Church allows local artists to show and sale their work in their Family Life Center gym to help raise funds for the Mission House.
The Mission House originated in the Bullard church almost eight years ago. The Mission helps to feed, clothe and provide medical assistance to the needy in the community. The mission also provides Christmas for children in need; school supplies; provide furniture, donated by the community, to people who lose their homes in fires, floods, storms, or maybe even a divorce; have luncheons to help pay for medical procedures not provided by the clinic; help set-up apartments, etc. with household goods for returning soldiers; and provide reading material for the V.A. The list of services these volunteers provide cannot all be named and all this they do unselfishly and without pay! All money donated and raised through fundraisers go directly to providing for the needy.
This year's show and sale promises to be awesome. There will be over 35 artists displaying/selling art in a variety of mediums; paintings, jewelry, photography, drawings, watercolors and even live musical entertainment.
Help support this worthy cause and support the local artisan, too. Hope to see you there!